What I learnt: The Loft Conversion
Those of you who follow me on Instagram will know that for the past few months we have been undergoing a loft conversion on our Victorian Terrace in East London.
It was something we always planned to do when we lost a bedroom in order to move the bathroom upstairs (it was originally in a dodgy lean-to at the end of the kitchen) but when it came to getting started, it all happened really quickly.
We are so happy with the final result - it has made the house seem so much bigger and despite being pretty concerned it would be cramped up there, it really isn't! We now have an amazing master bedroom with ensuite (featuring the much needed second loo for the house!) and I am pretty sure we have increased the value of the house so its all win win right? Well yes, that is right. BUT for anyone about to undergo one, here are a few things I learned along the way and what I might have liked to know beforehand...
1. People will tell you a loft conversion is pretty un-disruptive. They are WRONG.
We were told that the majority of the work on the loft would be done before they broke through into the landing to put in the stairs, which means that the disruption in the rest of the house is relatively low-level. This is true to an extent, however the stairs were put in within about 2 weeks of the project starting which meant that for the rest of the project (about three months) you are disrupted. Not just the workmen traipsing in and out, but also the dust and dirty for the work gets everywhere. We also had some quite heavy rainfall whilst the roof was off which has meant that most of the upstairs rooms have to be repainted. Not a deal breaker at all but go in with open eyes and not as naive as we were!
2. Get everything ready, even before your builder tells you to
If you are ordering tiles, flooring and fixtures and fittings yourself, get everything in place (at least have made a decision on these things) before your builder tells you he/she needs them. Our builder was very chilled when we asked him timeframes, and then suddenly he needed it immediately and we weren't able to get things as quickly as he would have liked. This meant that ALL work stopped on the build (it is more cost effective for builders to pay lots of workmen to be on sight at once, rather than have them come in drips and drabs as many have more than one skill). This really slowed down the project.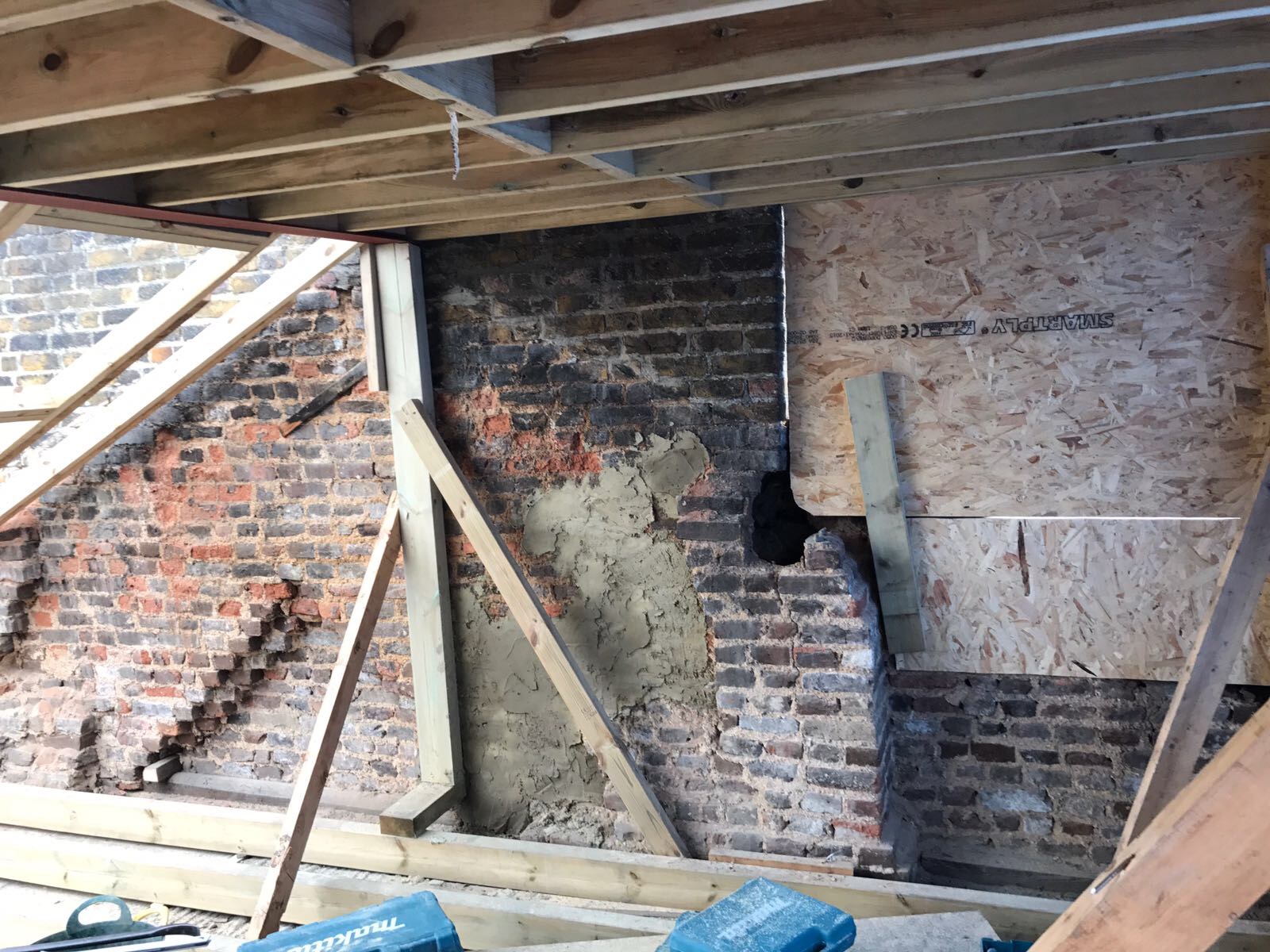 We had no roof for two weeks (and yes, it rained. A lot.)
3. Be specific from the off
If you have any specific finishing requirements e.g. window colour/shape/handle colour etc, make sure you specify this as soon as you can otherwise they quite often just crack on with what they think is best/what is cheapest! Our builder had to reorder our windows because we wanted them to be dark grey on the outside to match the tiles on the dormer - it didn't incur any additional costs (his fault for not asking!) but it did slow things down waiting for the new ones to arrive
4. Architect drawings are not gospel
You will need to have an architect draw up the plans for your loft conversion to establish the technical side of things, but the layout is totally up to you so don't be afraid to work with them on it. We were told that the best layout was to have the stairs turn right onto a new landing area which would have a door to a bathroom one side and a door to a bedroom on the other. We knew that a landing would be a total waste of much needed space so we changed the plan so the stairs turned left, straight into a bedroom with an en suite instead. It now means that we have a really useful walk-in wardrobe where a wasted landing area would have been. The builder admitted our idea was better at the end of the project too so trust your instincts!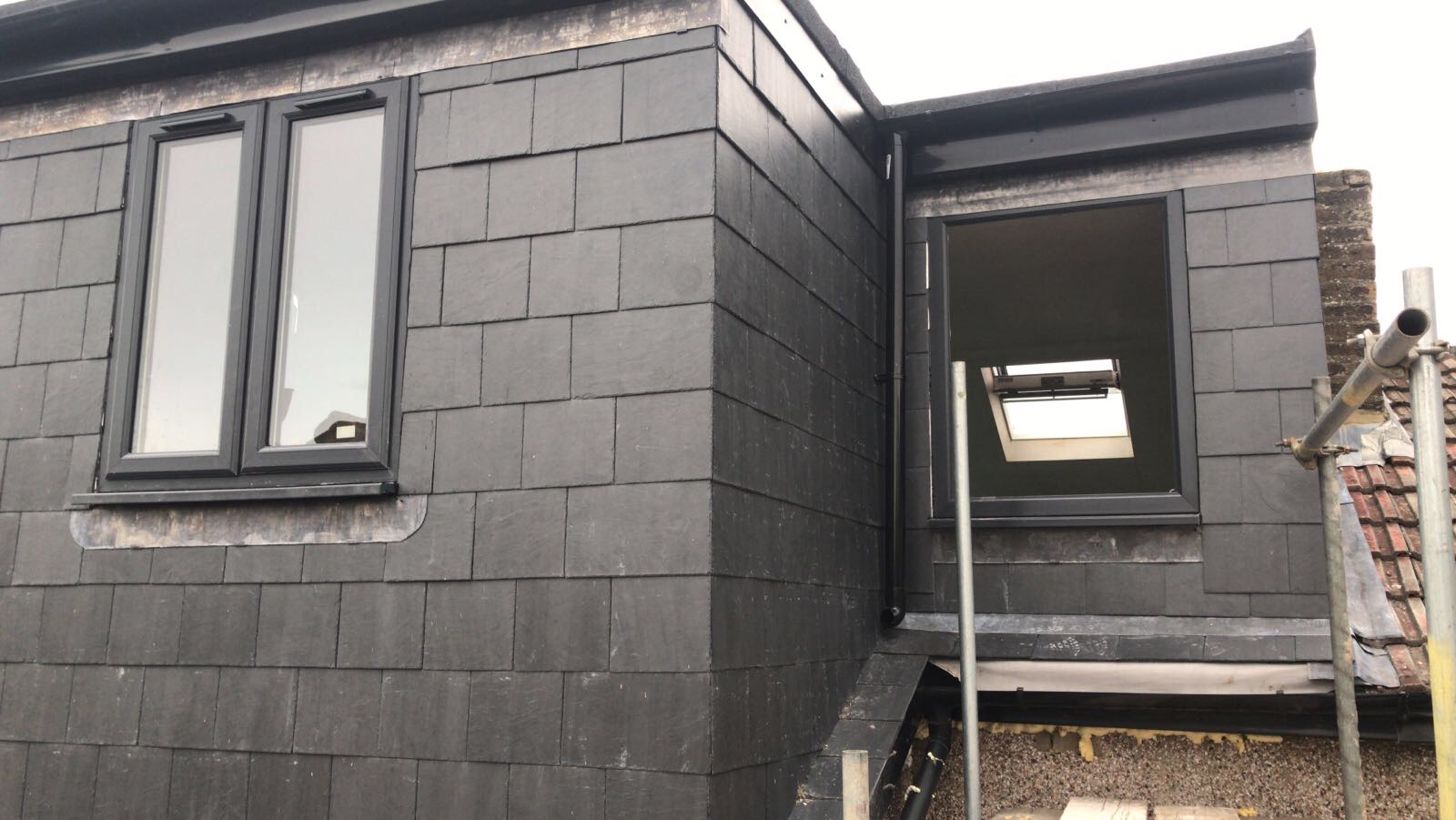 To match the tiles on the new roof and dormer
5. Storage is tricky
Slopping ceilings and awkward walls and windows can make storage a real challenge so work with your builder on ensuring he is factoring that in where he can. We have cupboards along the whole front of the house in the loft, where the ceiling would normally slope all the way down. The space is about 5 metres wide and the builder was going to have just one cupboard door to access it (which would involve a lot of crawling around in there to actually be able to use the space!). We pointed this out and he added some additional doors for access - a little thing but just keep an eye out for this sort of thing as the project goes on!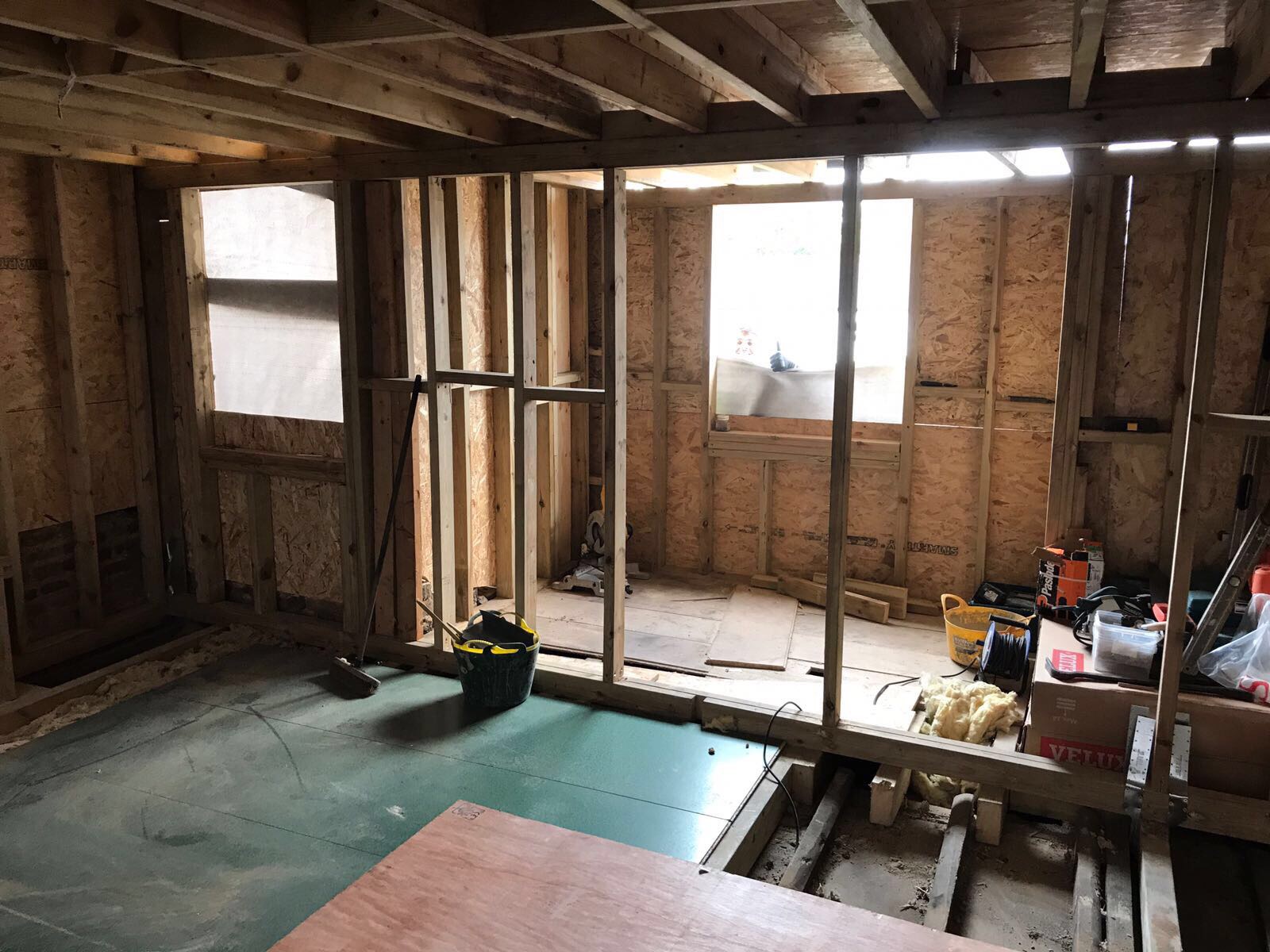 The boxed out area is the bathroom
6. Have a contingency budget and expect additional costs/work
This is an obvious one, but it really is true. When the dormer is added to a house, the weight does mean that things move a bit in the rest of the house. What that meant for us was a leaking roof above the kitchen (it did need replacing anyway to be honest). It was good to get it replaced as it now matches the new roof above the loft, but it was an additional £1250 we hadn't planned on spending. Another thing we didn't consider was the fact that all of the doors needed to be replaced so that they are fire compliant. Our doors were rubbish so that was a 'two birds, one stone' situation for us. However, because the house is old and very wonky, the carpenters ended up having the replace each door frame (all bedrooms, lounge, bathroom and dining room). This means that we will now need to filler, sand and repaint most of the rooms in the house. A bit frustrating and not something we had considered in terms of time, or money.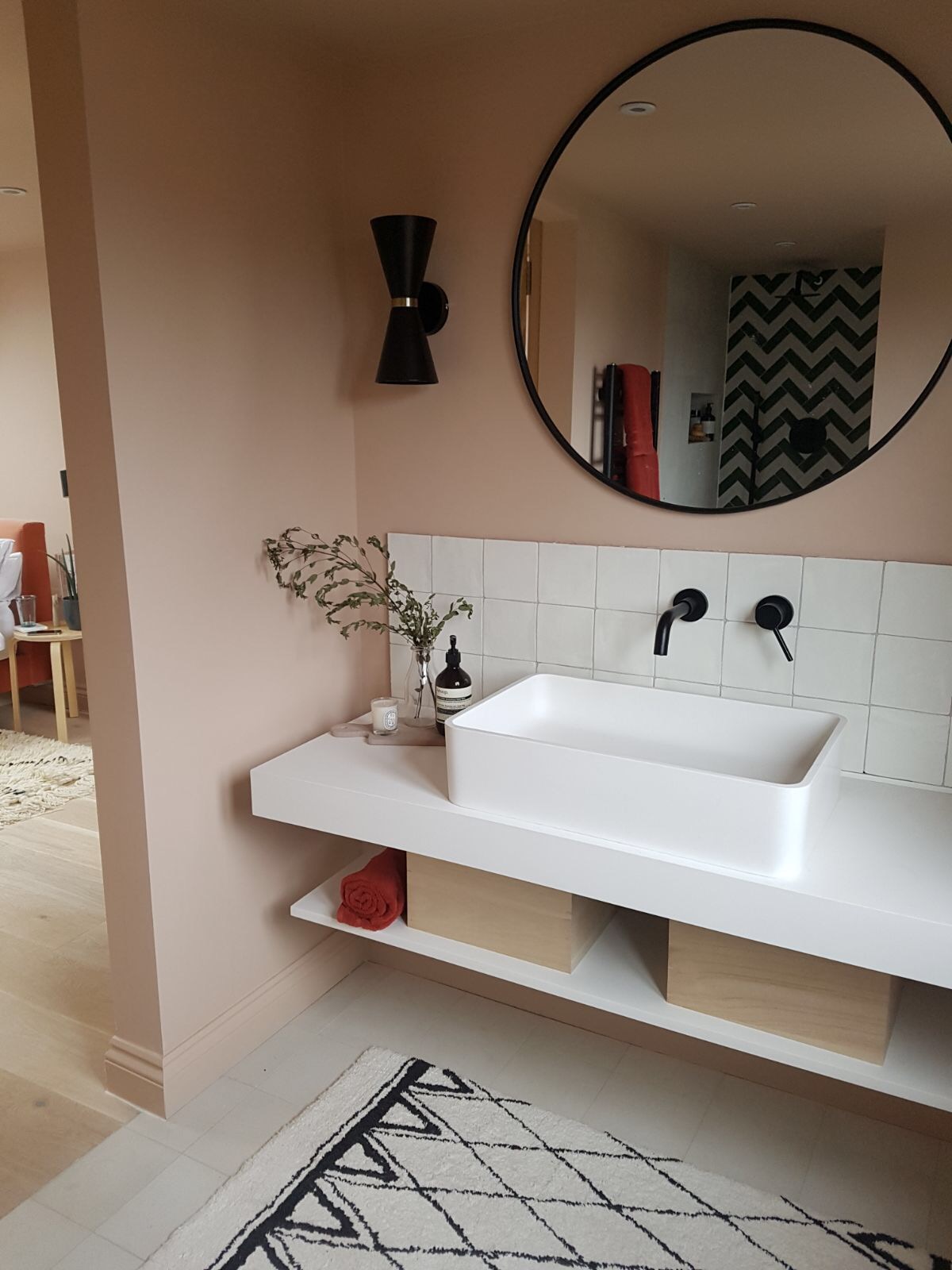 The bathroom with a little view into the main bedroom area
So there you have it - some thoughts from me! As I say, completely happy with the final result but hopefully this will help you avoid any pitfalls when you start your project!
You can view the finished bathroom on this previous blog post here.
Do you have any insights to share from a recent renovation? If so I would love to hear them!